Adam Levy Updated: July 30, 2020, 11:27 a.m.
Investing in growth stocks can be a great way to earn life-changing wealth in the stock market. The key, of course, is to know which growth stocks to buy — and when.
To help you get started, here's a handy guide to growth investing. With these tools and strategies, you'll be able to position your portfolio for long-term success with growth stocks.
What is a growth stock?
Growth stocks are companies that increase their revenue and earnings faster than the average business in their industry or the market as a whole.
Often a growth company has developed an innovative product or service that is gaining share in existing markets, entering new markets, or even creating entirely new industries.
Businesses that can grow faster than average for long periods tend to be rewarded by the market, delivering handsome returns to shareholders in the process. And the faster they grow, the bigger the returns can be.
Unlike value stocks, growth stocks tend to be more expensive than the average stock in terms of metrics like price-to-earnings, price-to-sales, and price-to-free-cash-flow ratios. Yet despite their premium price tags, the best growth stocks can still deliver fortune-creating returns to investors as they fulfill their awesome growth potential.DID YOU KNOW…
Growth stocks are companies that increase their revenue and earnings faster than the average business in their industry or the market as a whole.

Great growth stocks
To provide you with some examples, here are 10 excellent growth stocks available in the stock market today:
CAGR = compound annual growth rate. Data sources: Morningstar, Yahoo! Finance
As this list shows, growth stocks come in all shapes and sizes. They can be found in a variety of industries, both within the U.S. and in international markets. In fact, while all the stocks on this list are larger businesses, smaller companies can be fertile ground for growth investors, too.
A great way to invest in a wide variety of small-cap growth stocks is via an exchange-traded fund (ETF) such as Vanguard Small-Cap Growth ETF (NYSEMKT:VBK). This fund tracks the performance of the CRSP US Small Cap Growth Index, which gives investors an easy way to invest in roughly 580 small-cap growth companies all at once. Importantly, this ETF has an ultralow expense ratio of 0.07%, meaning that investors will receive nearly all of the fund's returns, with only a small amount in fees going to Vanguard. (In fact, an annual expense ratio of 0.07% equates to only $0.70 in fees per $1,000 invested per year.)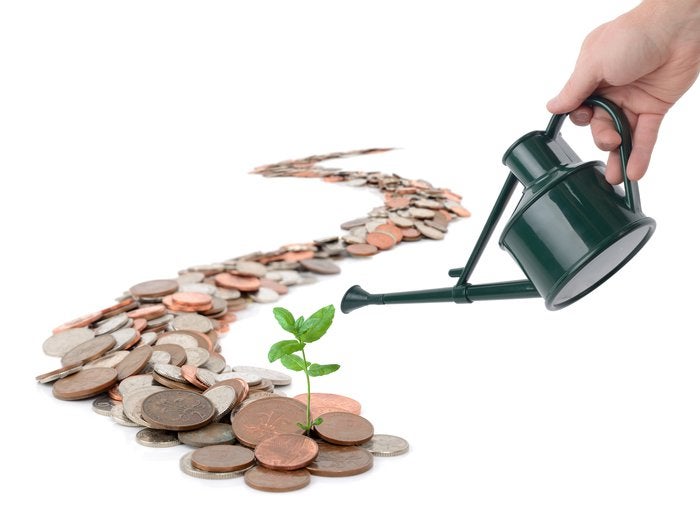 Image source: Getty Images
How to find growth stocks 
To find great growth stocks, you'll need to:
Identify powerful long-term market trends and the companies best positioned to profit from them
Narrow your list to businesses with strong competitive advantages
Further narrow your list to companies with large addressable markets
Identify trends and the companies driving them
Companies that can capitalize on powerful long-term trends can grow their sales and profits for many years, generating wealth for their shareholders along the way. Such trends — and the companies that can help you profit from them — include:
The key is to try to invest in these types of trends and companies as early as possible. The earlier you get in, the more you stand to profit. However, the most powerful trends can last for many years and even decades, giving you plenty of time to claim your share of the profits they create.
Prioritize companies with competitive advantages
It's also important to invest in growth companies that possess strong competitive advantages. Otherwise their competitors may pass them by, and their growth may not last long.
Some competitive advantages are:
Network effects: Facebook is a prime example here. Each person who joins its social media platform makes it more valuable to other members. Network effects can make it difficult for new entrants to displace the current market share leader, and Facebook's more than 2 billion users certainly make it unlikely that a new social media company will displace it.
Scale advantages: Size can be another powerful advantage. Amazon is a great example here, as its massive global fulfillment network is something its smaller rivals will find extremely difficult to replicate.
High switching costs: Switching costs are the expenses and difficulties involved in switching to a rival product or service. Shopify — which serves as an online retail operating system for more than 1 million businesses — is a great example of a business with high switching costs. Once a company begins to use Shopify as the core of its online operations, it's unlikely to go through the hassle of switching to another competitor.
Pinpoint companies with large addressable markets
Lastly, you'll want to invest in businesses with large addressable markets — and long runways for growth still ahead. Industry reports from research firms like Gartner (NYSE:IT) and eMarketer — which provide estimates of industry sizes, projections for growth, and market share figures — can be very helpful in this regard. The larger the opportunity, the larger a business can ultimately become. And the earlier in its growth cycle it is, the longer it can continue to grow at an impressive rate.
John Mackey, CEO of Whole Foods Market, an Amazon subsidiary, is a member of The Motley Fool's board of directors. Suzanne Frey, an executive at Alphabet, is a member of The Motley Fool's board of directors. Randi Zuckerberg, a former director of market development and spokeswoman for Facebook and sister to its CEO, Mark Zuckerberg, is a member of The Motley Fool's board of directors. Adam Levy owns shares of Alphabet (C shares), Amazon, and Facebook. The Motley Fool owns shares of and recommends Alibaba Group Holding Ltd., Alphabet (A shares), Alphabet (C shares), Amazon, Facebook, JD.com, MercadoLibre, Netflix, Salesforce.com, Shopify, Square, and Vanguard Small-Cap Growth ETF. The Motley Fool recommends Gartner and recommends the following options: short September 2020 $70 puts on Square, short January 2022 $1940 calls on Amazon, and long January 2022 $1920 calls on Amazon. The Motley Fool has a disclosure policy.